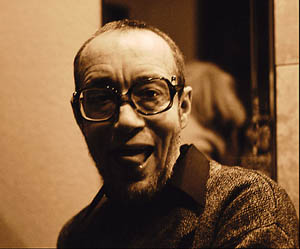 Author/artist, was born in 1946 (Dzhankoy, Crimea Peninsula, former USSR). Graduated in Moscow Literature Institute, 1983.
Participant of many informal groups of artists and poets in Moscow and Kiev, such as: Post Futurists (later called Metarealists); 39.2? C; GLOSSOLALIYA; underground theatre Chen-Dzyu, underground theatre TheaterClub, etc.
In USA from 1991. Married, two sons. Participant of different international projects, such as EyeRhymes (1997, Edmonton, Canada), Gezelle (1999, Brugge, Belgium) etc.
Continue collaboration with TheaterClub (now Neomythological Theatre). Publisher, editor-in-chief, art director of multilingual handmade zine Reflect...Куадусешщт.
Works in private collections in Moscow, Kiev, Krakow, Kenisberg, Chicago, Miami, and Mexico. Books (in Russian, author's design): WATERfire, 1996, S.-Petersburg, Russia; The twilight of the traitors, (with A.Tamrazov), 1998, Philadelphia, U.S.A.
WWW
Indiana University. Russian Verse in English Translation. 20th Century
(S.Gandlevsky, L.Rubinshtein, D.Prigov, B.Kenzheev, D.Psurtcev, R.Levchin)

Photo by Arthur Shepilko.